When Pentax released the tiny mirrorless Q camera a lot of people's immediate reaction was to dismiss it solely based on its sensor size of 1/2.3″ (6.17 x 4.55 mm), but in doing that I think they are missing the point.  I don't see the Q as a replacement for any other type of camera necessarily but something entirely unique.  I find the image quality adequate for snap shots particularly with the 8.5mm prime lens and with the addition of the fisheye lens there is nothing else like it that can fit in a coat pocket.  The only time I choose to take my larger Nikon P7000 is if I think I will need the longer lens but that too can be addressed with the recently announced Pentax 06 zoom with its f2.8 83mm to 249mm equivalent in terms of "full frame".  But as this is a comparison of sorts, despite the difference between the type of cameras what really matters is the image in the end.  Yes the K10D is now 6 years old but it's still a DSLR and you would expect it to decisively out perform the Q if you just look at the size of the sensors.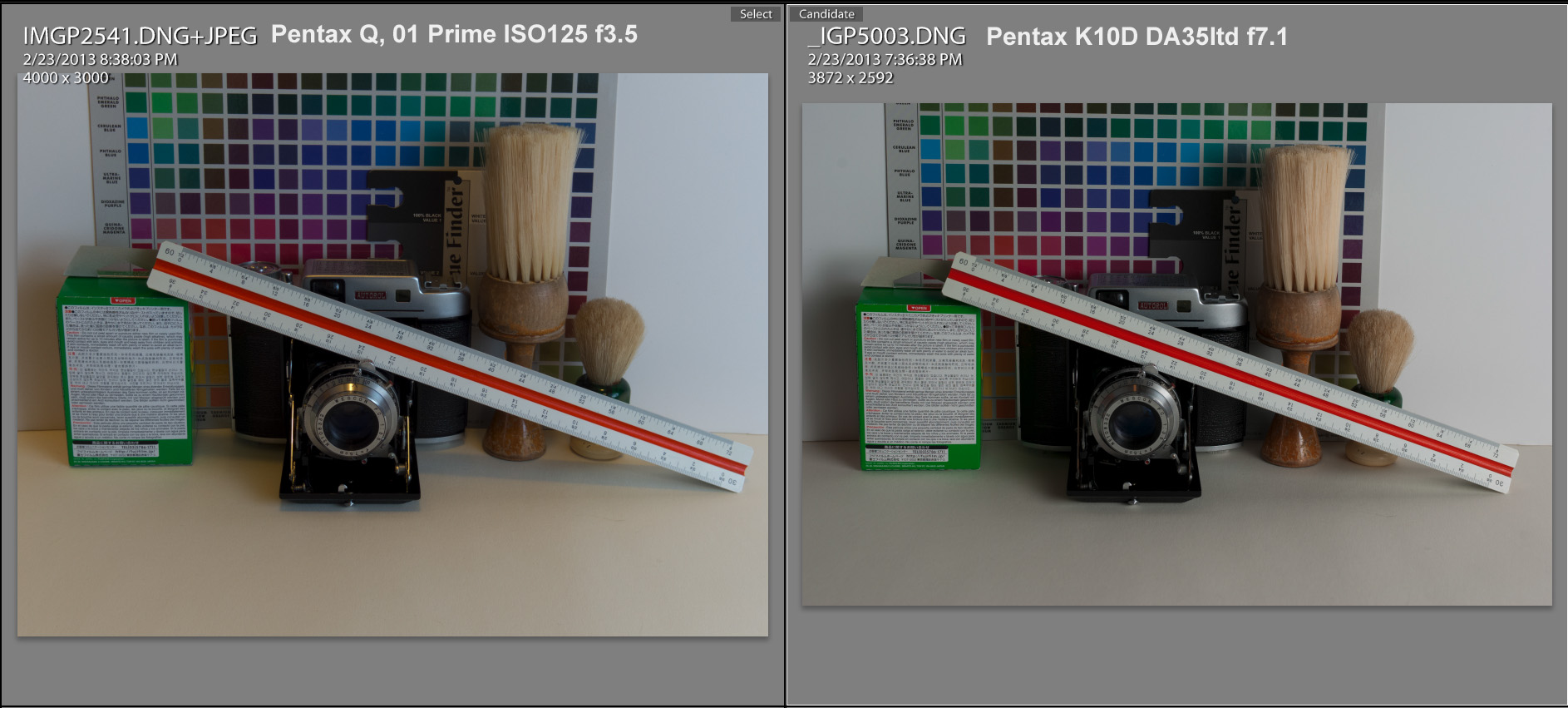 For this test I used the Pentax 01 Prime lens at an aperture of f3.5 which gave me enough depth of field for my scene yet did not result in a softening of the image due to diffraction.  For the K10D I used the excellent Pentax SMC DA35 ltd. at an aperture of f7.1 which also yielded enough depth of field and good lens performance.  There is a small difference in the field of view for these lenses so I did my best to match it and also the Q sits much lower on the tripod so I had to adjust for that as well.  Both cameras were set to P-TTL flash exposure using two AF540fgz  flashes into an umbrella.  I found the Q exposure and colour to be slightly more accurate but both were shot as RAW.  My purpose was not to test the two cameras necessarily at the same setting but at their individual best much as I would try to use them.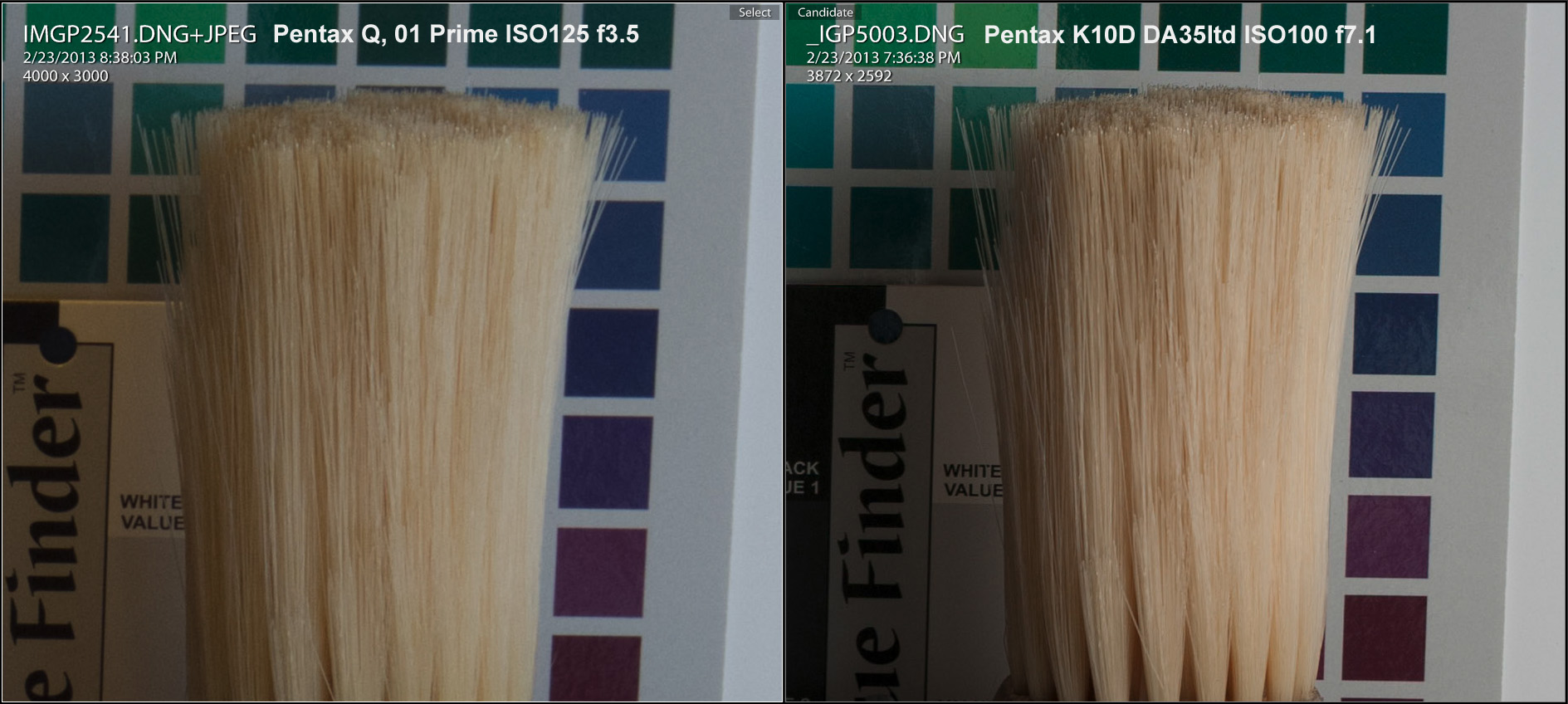 You can see in this first example that the K10D's rendering of the bristles is much sharper and better defined.  This is from an area of the image some way from the center but not really yet a corner.  Chalk one up to the K10D and the DA35 ltd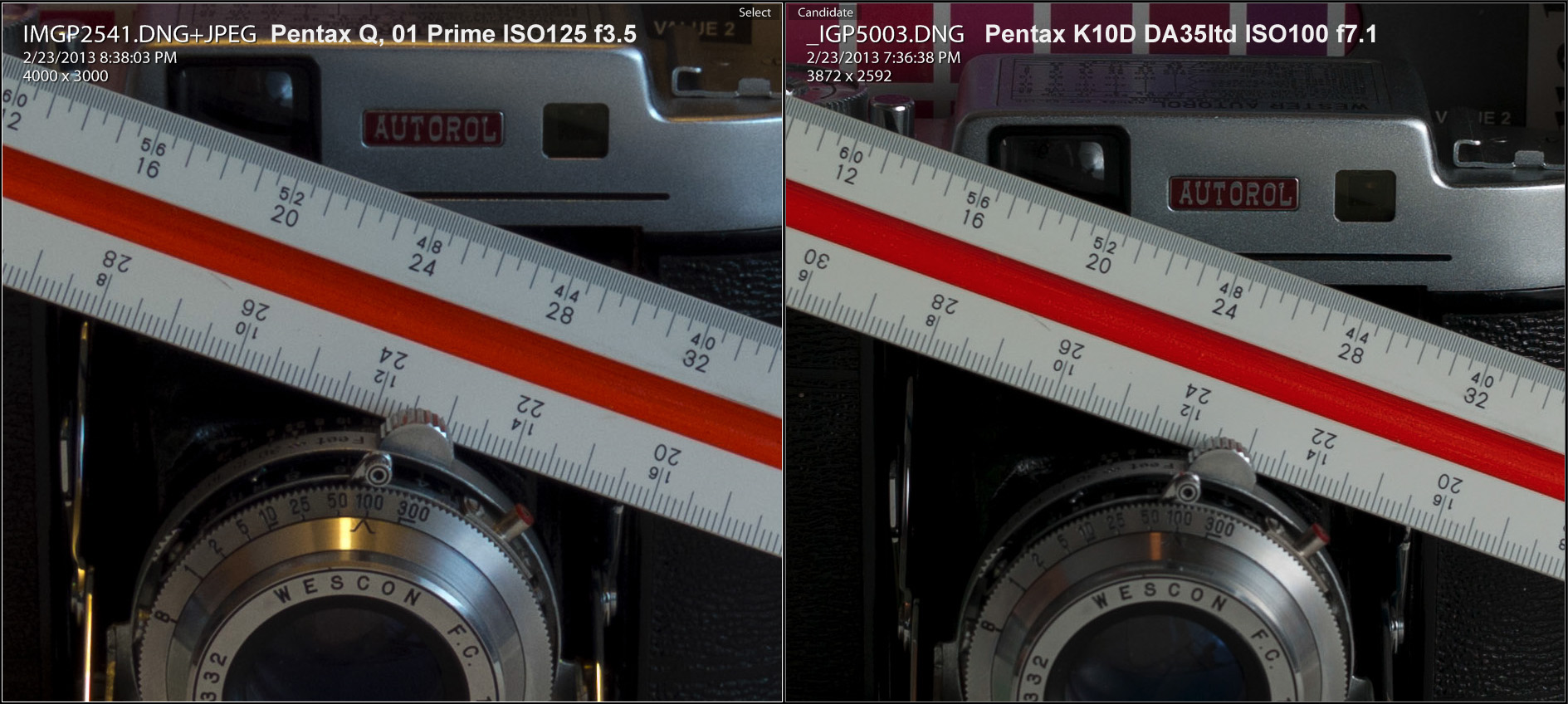 Towards the center of the image I find it to be a bit of a toss-up they both seem to have a similar level of sharpness with the slightly higher resolution of the Q perhaps allowing for  more detail, I would call this a tie though when I take into account what appears to be slightly different point of sharpest focus.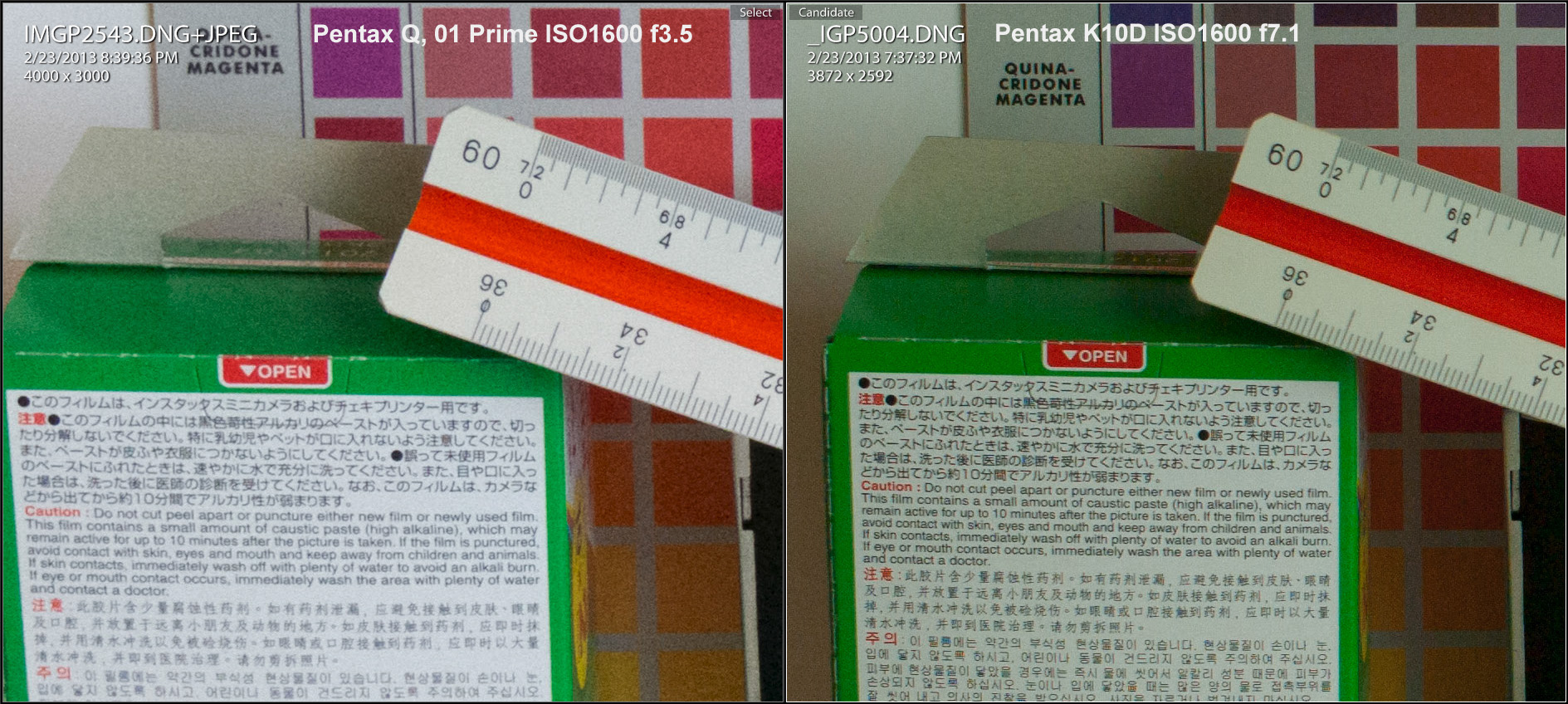 At 1600 ISO though the two cameras behave very differently there is more noise in the Pentax Q image but it also retains more detail as seen in the marks on the ruler.  As a person that still shoots 1 to 2 rolls of film a week I find the Q produces noise that looks a lot more like film grain so I prefer it.  What I take from this testing is that for everyday shooting the Q performs well enough that it can be my primary camera and only when I need to do something outside its capabilities is it necessary to choose something else.  Of course many people are saying this of smart phones with their cameras so it stands to reason that the Q is up to that task.   A small amount of online research shows just how much effort is going into engineering small sensors mostly  because of smart phones so there is likely to be a quicker and more dramatic level of development in this area.