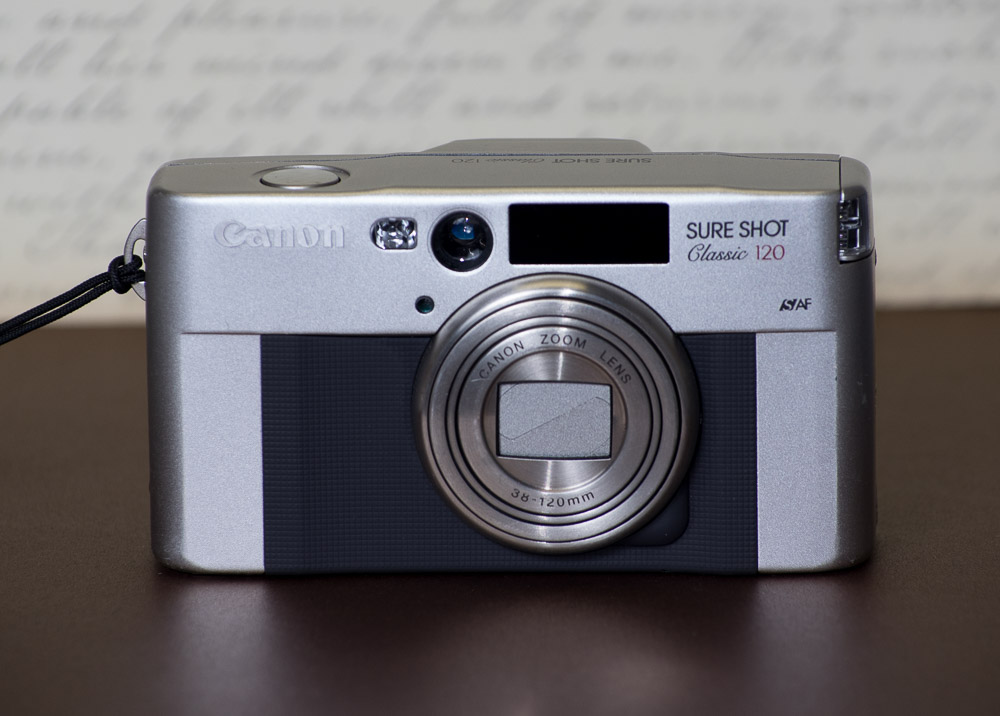 For a point and shoot camera I really like the look of the Canon Classic 120.  There is no doubt that they made an effort to evoke the feeling of rangefinders like the Canon QL17 and maybe even a little bit of the Demi from the mid 1960′s but it contains as advanced electronics as existed for point and shoot cameras in 1999.  The autofocus is touted as being able to focus on subjects not positioned in the center of the frame and that it uses a hybrid active and passive autofocus.  What this means is that the autofocus sensor is augmented in low light by a second system that sends out an infrared beam and determines the distance using this.  This is what Canon had to say about it
Active/passive hybrid 3-point dual AI-AF. AF working range: 0.6m – infinity (normal mode), minimum focusing distance of 0.43 – 0.58m (close-up mode). Focusing point selection: 3-point AF, manual selection of center-point AF. AF modes: one-shot AF, servo AF mode. AF in-focus indicator: The green LED lights when subject is in-focus, or blinks as a too-close warning. Prefocus.
And translated into something a little more understandable
It focuses good.  It focuses from arms length to those mountains in the distance when not set to macro and down to one and a half size twelve feet in macro.  You can select the center focus point.  It can focus on one point and lock while you press the shutter.  It can continue to try to focus as you waste film in servo mode.  A little green light comes on if it thinks its done good and flashes if its bad.  You can point the camera at something press the shutter half way and hold it there and then recompose the picture with the same focus setting or as they concisely say 'Prefocus'.
The cameras biggest drawbacks are its need for two expensive CR2 batteries and its slow f10.9 aperture at 120mm.