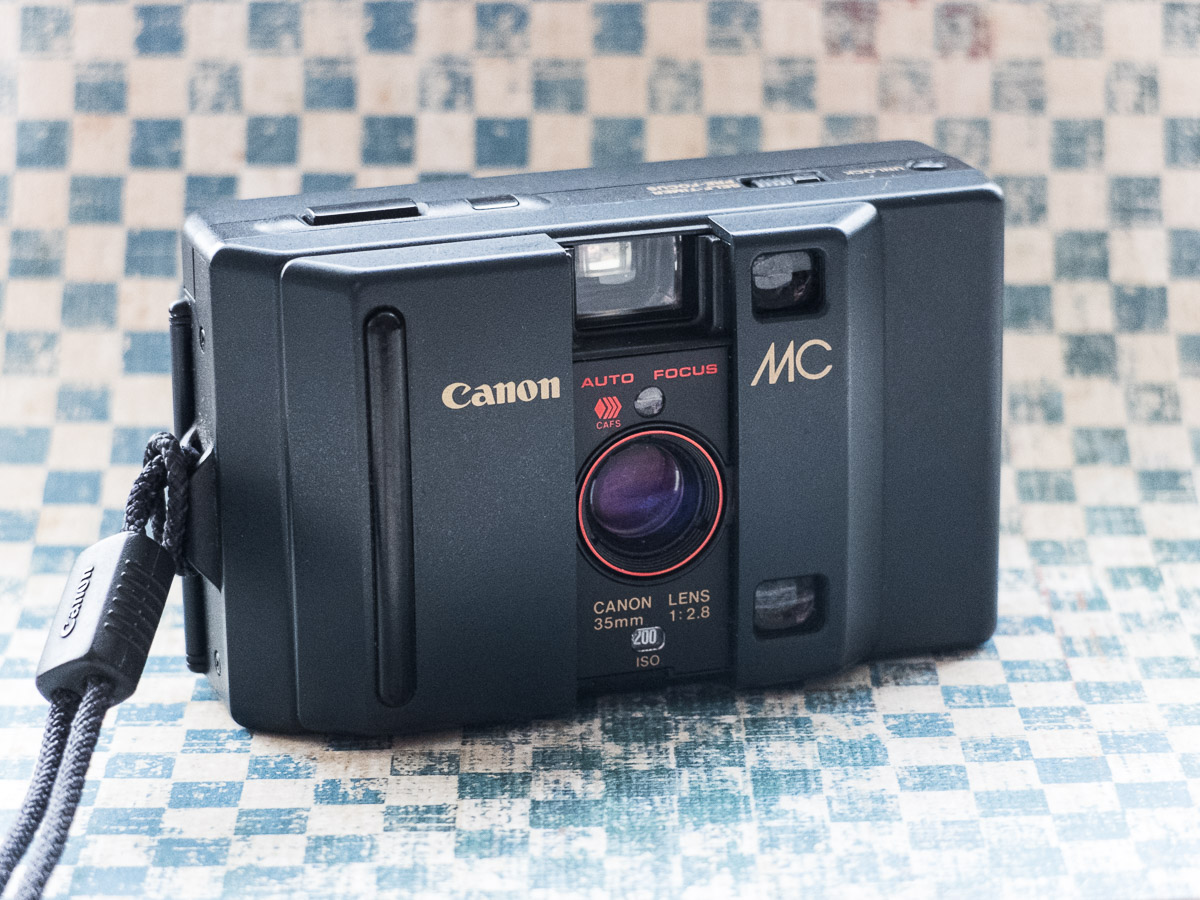 The Canon MC (MC stands for Micro Compact) is on the small side at 4.25″ x 2.5″ x 1.625″.  One of the ways that it achieves this small size is by placing the two infrared autofocus modules in a vertical arrangement.  They are uncovered along with the lens when you slide the lens cover open which also turns the camera on.  An additional way size is kept down is by using AAA batteries for power. (Lithium batteries were only just starting to be used around the mid 1980's)
The lens is a 35mm f2.8 made from 4 elements the rear element being a molded plastic aspherical one.
The shutter itself is electro mechanical which allows settings between 1/8 and 1/500 second.  If the exposure system deems that there isn't enough light for a proper exposure it flashes a red LED in the viewfinder to suggest that you use flash.  The flash is a detachable unit that mounts on the side of the camera and is also powered by two of its own AAA batteries
A common way that many cameras achieve pre-focus and recompose is to allow a half press of the shutter button before fully pressing it and taking the picture.  The Canon MC takes an entirely different approach. There is a (Self-Timer Pre-Focus) switch on the top of the camera and by sliding this to the left and then fully depressing the shutter the autofocus system is activated and set without tripping the shutter then a second press of the shutter button will trip the shutter using the previously set autofocus. Here is the kicker though you need to do that before the self timer goes off and takes a picture anyway.  It does give you 10 seconds and that 10 seconds doesn't start until you release the shutter button when setting the focus.  So in practical terms you could set the focus and hold down the button until you are ready to take the picture and then release and re-press.  The actual tripping of the shutter is extremely quiet but then the thundering film advance happens sounding a lot like some injured animal.
I found the camera to be a capable performer in most cases and with its small size and angular design it achieves a level of fun that's hard to explain.  While it's a cumbersome process you can use the Canon MC in a silent way which I will describe here.
1.  Slide the Pre-Focus switch to the left
2.  Press and hold the shutter button to set focus
3.  Wait for the moment you want to take the picture
4. Release and repress the shutter to take the picture KEEPING the shutter button pressed
5.  Wait until an opportune moment to release the shutter button again to advance the film and mask the noise, a moment such as a jet taking off or a stuck car horn.