It's all been seen before, in a manner.
It's all been seen before as the saying goes.  I want to back up for a minute though.  In 2013 I was driving south on the Trans Canada Hwy through the Thompson Canyon.  I am always looking for things to photograph but in this case my desire to pull over was additionally fueled only in the way that too much coffee and hours of driving can.  At a certain point I saw a foot bridge over the river that I had never noticed before and doubled back to see if I could have a closer look.  I made my way down to the footings of the bridge which was completed locked against any entry but I knew I had to photograph it.  I took a few pictures and was quite pleased but what I really wanted was a train with tanker cars across the river.  I didn't need to wait long.  I took a few shots to get things set up and waited for the right moment when the tankers were in the frame.  I included the river in the composition as I was trying to show in one image the precarious situation of oil filled rail cars on the edge of one of the most important rivers in British Columbia.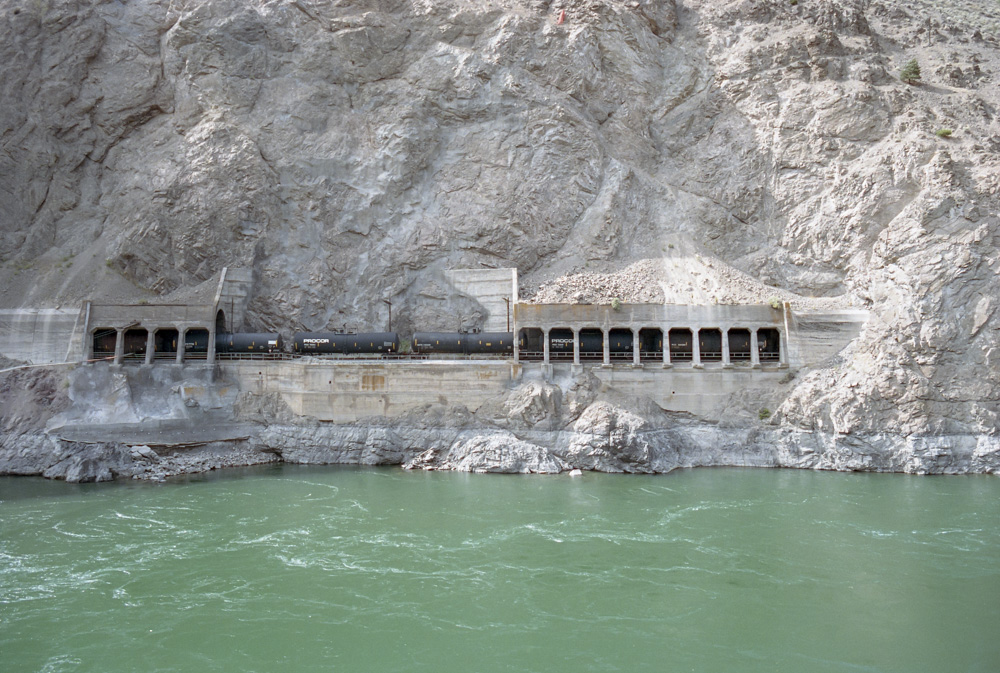 Thompson River with tanker cars, 2013 (Wallace Koopmans)
Fast forward to May 2014 when I went to the Vancouver Art Gallery.  I reached the second floor with the Edward Burtynsky exhibit and I was only three images in when I was confronted with the large-scale print (Railcuts #11 CN Track Thompson River, British Columbia 1985)
I knew immediately that this was the same location that I had been at the previous summer.  Now I was aware of Burtynsky's series 'Railcuts' and had seen several examples but I don't believe I had ever seen this image. That doesn't really matter though because I am clearly influenced by his work.  Looking at the printed image the amount of detail he captured was amazing far beyond what I recorded with my piddly 35mm camera.
I enjoyed the rest of the exhibit and noticed several things about his work.  In his more resent images he has a greater degree of abstraction with less of a sense of depth and an often higher vantage point.  The difference this makes is that with some works if you stand at a certain distance they give a feeling of looking through a window right into the scene, that effect doesn't happen with the aerial shots.  If you are unfamiliar with Edward Burtynskys work I encourage you to take any opportunity to see one of his prints that you can, failing that check out one of his books, an image on a screen will not do them justice.